What we do:
Our purpose is to protect & restore Alabama's rivers. To do this, we advocate smart water policy, organize at the grassroots level, and teach citizens how they can protect their water. We are privately funded and accomplish our mission with the financial support of people like you. Our goal is to achieve healthy rivers, healthy people, and a healthy system of government for the state of Alabama.
TAKE ACTION FOR CLEAN WATER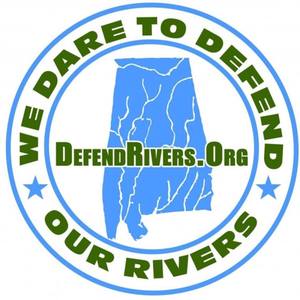 Time is running out for Alabama to find new revenue to protect clean water

Call your Senators today and tell them to find new revenue to fully fund ADEM, maintain funding for water assessments, and keep our state parks open
For several weeks, you have been calling on your legislators to stand up for essential programs that keep Alabama running however the House has moved forward a dreadful austerity budget that will slash state agencies, close state parks, reduce funding for assessing Alabama's water resources, and completely zero out the Alabama Department of Environmental Management.
Governor Bentley has called this budget "unworkable" and "irresponsible" but the message is not getting through. The House's action this week has moved clean water protection in Alabama to the brink of catastrophe.
Now its the Senates turn to take up the budget.
Senator Arthur Orr, R-Decatur and chair of the Senate Finance and Taxation - General Fund committee, has called on his colleagues to "look at other options and not just pass the House-passed [budget]" (
Read more here
)
Leaders in the Alabama Senate are working to find a way around this crisis but they are fighting an uphill battle. If the Senate cant come up with a better plan, this bad idea budget will gut many of the agencies and programs that we rely on to protect Alabama's natural environment and our public health and safety.
Under the House's cuts:
ADEM would get $0 from the General Fund and would actually have to send the state $9.5 Million from the water permit program.
ADEM will no longer be able to conduct fish testing to determine if the fish are safe to eat.
ADEM will not be able to conduct inspections and take enforcement action against polluters.
EPA will be forced to take over ADEM's pollution permitting program.
GSA and OWR will lose funding necessary to complete the water assessments that are critical to managing Alabama's water resources
DCNR will be forced to close up to 15 of Alabama's State Parks and let go hundreds of workers across the state.
This is no way to run a state government. Clean water and public lands should not be victims of political brinksmanship.
Senator Cam Ward, R-Alabaster, said "People send us down here to solve problems not to run away from them. Everyone here knows we can't solve this problem without more revenue. And we have to solve this problem." (
Read more here)
ARA is joining with advocates across Alabama including Alabama Arise to tell our leaders to stop kicking the can down the road and find the revenue needed to fund a functioning state government.
Call your State Senators today and tell them its time to Act Responsibly, Find New Revenue, and reject the "Austerity Budget."
You can find you legislators' information here:
http://capwiz.com/state-al/home/
For more information or to report back on a conversation with a legislator please contact Mitch Reid at mreid@alabamarivers.org or visit www.alabamarivers.org
---
He explores water policy, enforcement, coordination, and funding issues as outlined by the Alabama Water Agenda.