Fish Guide
Background:
Alabama has one of the highest rates of subsistence fishing in the country. Since 2016, the Alabama Department of Public Health has issued Fish Consumption Advisories for nearly every river in Alabama. Unsafe fish account for more than 100 of the 230 listings on the Alabama Department of Environmental Management's 303(d) impaired waters listing. Gaining access to this information is difficult, with the advisories buried on Department of Public Health website and on ADEM's eFile system. Fishers without access to the internet have no other options to access the important information for the health of themselves and their families. Alabama's state motto is "We Dare To Defend Our Rights", yet currently, our anglers and their families don't have a right to know where fish consumption advisories are in their local waterways. We hope to change that.
The Alabama Rivers Alliance worked with Coosa Riverkeeper to support their wildly popular FISH GUIDE program. FISH GUIDE provides crucial information for fishermen throughout the state about the advisories and their impact, and also provides alternatives for cleaning and preparing the fish from our rivers. In 2022, Alabama Rivers Alliance and Waterkeepers Alabama completed a project to mount more than 45 new and more accessible fish consumption advisory signs at boat ramps managed by Alabama Department of Conservation and Natural Resources (ADCNR) on impacted waterways across Alabama. Click here to read about this project.
Coosa Riverkeeper has also created an easy to access hotline for fisherman to check the advisories in their area. Simply call 1-844-219-RISK (7475) and listen for the prompts of the number of the watershed you wish to fish:
Click here to go to the Alabama Department of Public Health & download the 2023 Fish Consumption Advisory Guidelines.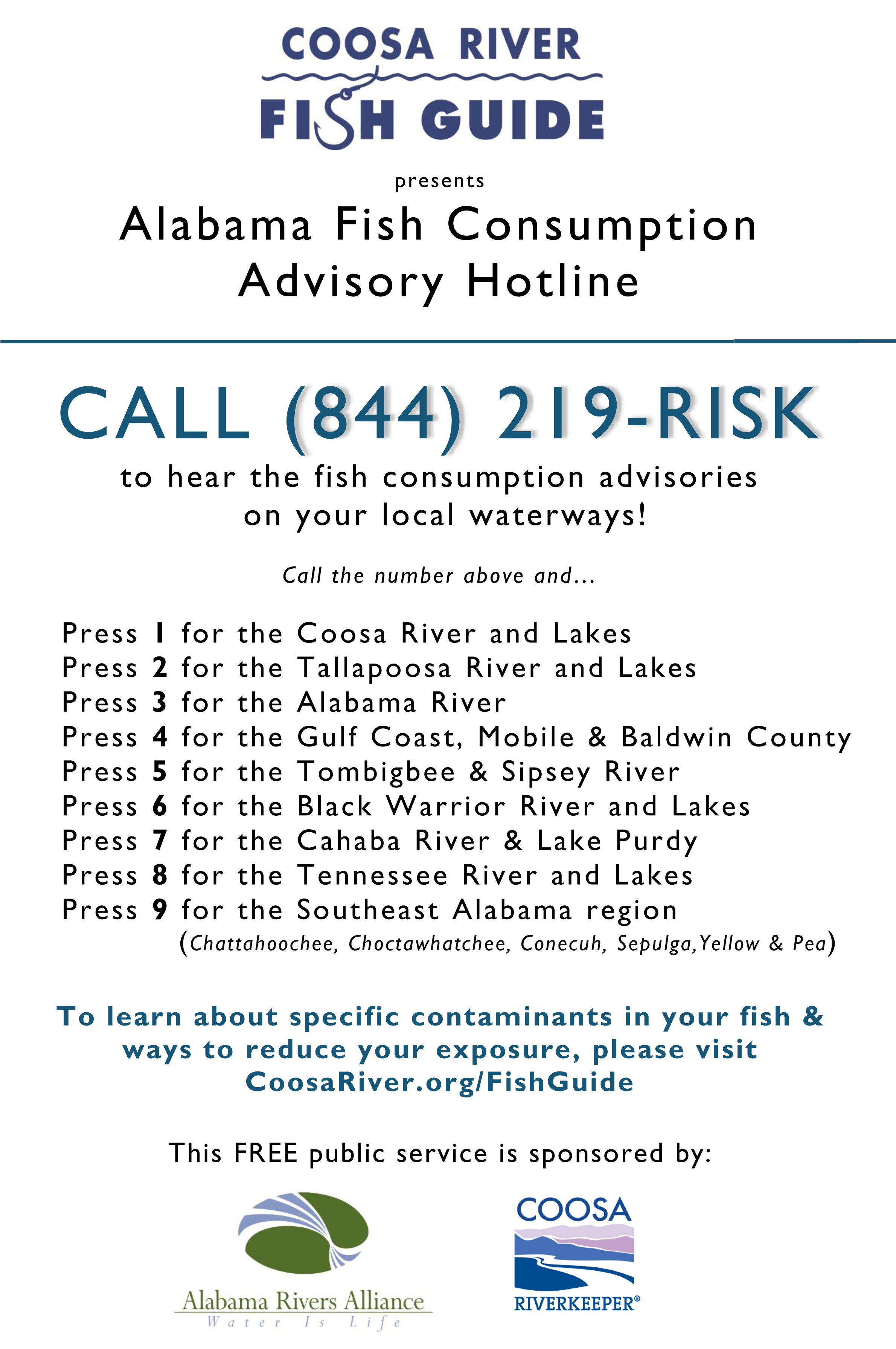 Reduce your exposure to dangerous toxins by properly preparing your fish for dinner!

Watch Fishermen's Right to Know from the Southern Exposure Film Fellowship program:
Also watch the 2020 film, A Fisher's Right to Know from Southern Exposure on Vimeo.
Explore the interactive statewide map of fish consumption advisories in Alabama below:
---
Improve access to fish consumption advisories by making them more readily available on ADPH, ADEM, and ADCNR websites
Post consumption advisories at known fishing locations and at all public boat launches and put ins/take outs
Notify all fishers of consumption advisories whenever fishing licenses are purchased