Alabama Water Rally 2018
March 16, 2018 @ 11:00 am

-

March 18, 2018 @ 2:00 pm

COMMUNICATE. COLLABORATE.

ACT!
Alabama Water Rally 2018 will return to our state's capitol of Montgomery March 16-18.
Water Rally is THE premiere educational, networking and celebratory event for all Alabamians interested in advocating for Clean Water and in the protection of all of Alabama's waterways.
Alabama Water Rally 2018
Agenda At-A-Glance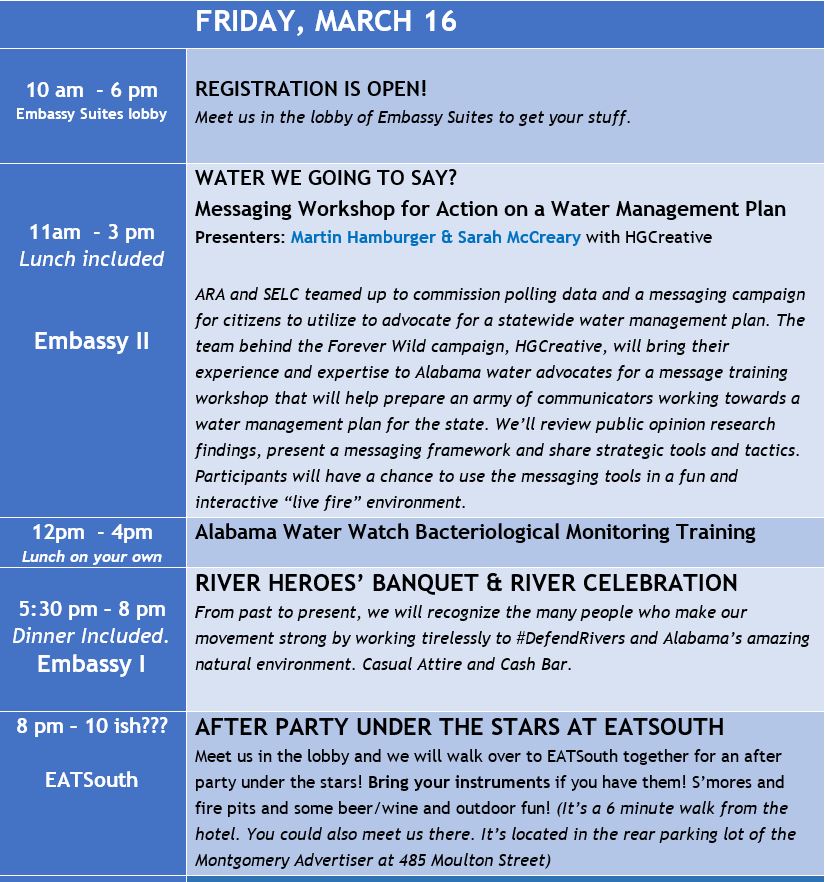 What is Alabama Water Rally?
Alabama Water Rally is the annual gathering of Alabama's network of water advocates and allies hosted by the Alabama Rivers Alliance. This is the premiere educational, networking and celebratory event for community and watershed based organizations as well as individual Alabamians interested in #CleanWater and protection of all our waterways. The conference moves to different regions of the state each year so that it is accessible to citizens and groups from all parts of Alabama. In 2018, we will bring Alabama Water Rally to our capitol city – Montgomery! We want to be close to the legislative action during this important political year.
What happens at Alabama Water Rally?
Each year Alabama Water Rally brings more than 100 individual river defenders from a variety of backgrounds together to share, network, and learn Š—" and celebrate Š—" our 132,000 miles of rivers and streams. Participants include protectors of our rivers, community leaders, students interested in environmental advocacy, agency employees, teachers, elected officials, scientists, lawyers, engineers, concerned citizens, nature lovers, and other eco-minded folks. You'll mix and mingle with attendees who all want to work together to #DefendRivers.
Alabama Water Rally participants receive professional development training from experts on the newest ideas and innovations in science, community organizing, advocacy work, campaign development, strategic planning and environmental policy work. It's a great opportunity for professional development as well as a chance to commune with eco-minded people to socialize, celebrate our victories, share our challenges, and have a fantastical time. Days are packed with informative education sessions and each night features entertainment, live music and a spirit of celebration.