Coosa River Toll Bridge Public Hearing
January 13, 2020 @ 11:30 am

-

1:00 pm

Free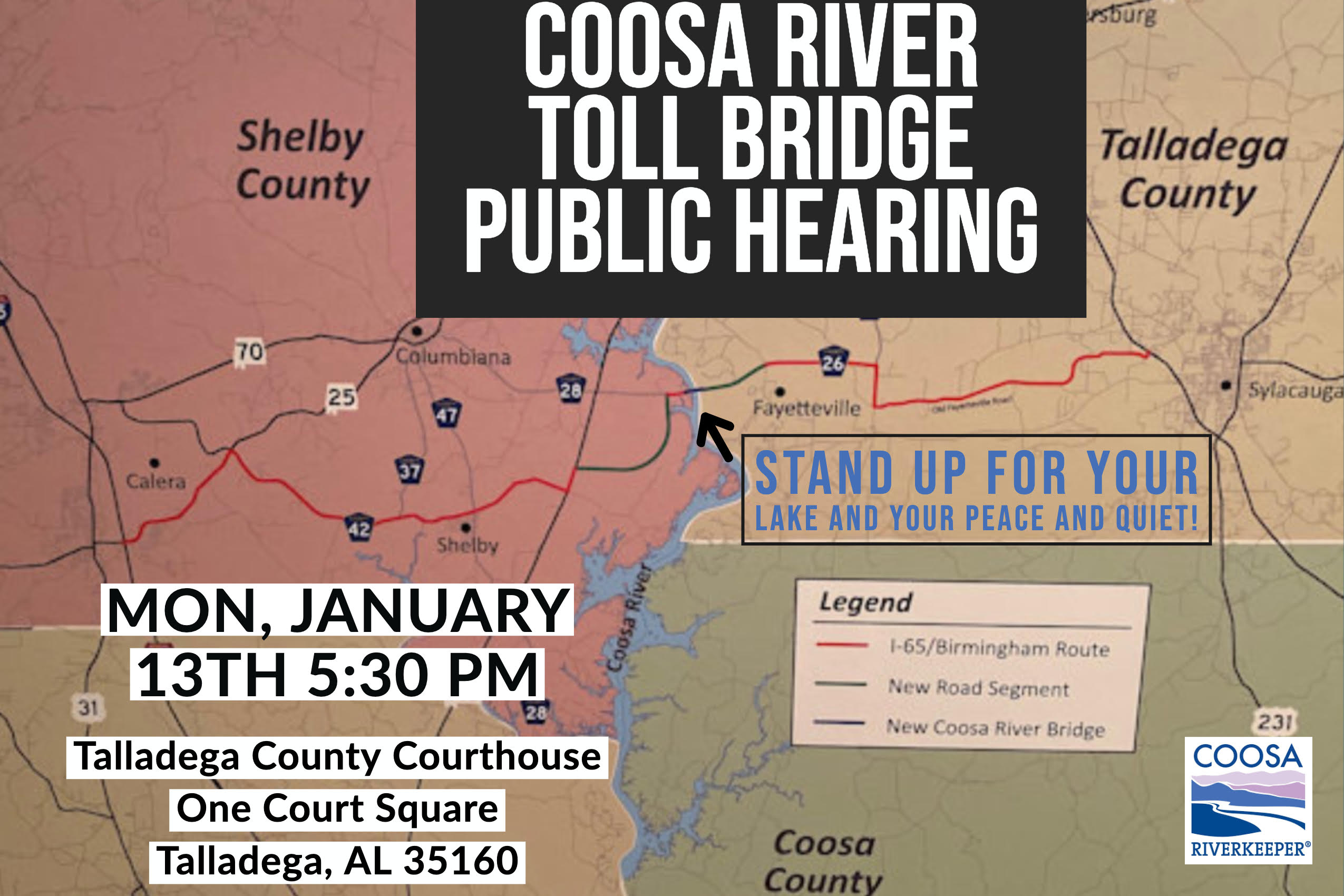 On
Let your voice be heard about the proposed privately-owned toll bridge connecting Talladega and Shelby Counties over a public resource: Lay Lake on the Coosa River. 
Join the Coosa Riverkeeper and other community organizaitons at a public hearing concerning the proposed toll bridge. If you're unable to attend, you can send your comments to the commissioners by clicking here.
See below for areas of concerns from Coosa Riverkeeper:
Coosa Riverkeeper is concerned about this proposed bridge's impact on Lay Lake, the Coosa River, and to the communities who live alongside the lake and river in the following ways:
the threat the bridge would cause to the peace & quiet expected of the Lay Lake community
high traffic from 18 wheelers from industry providing materials to car manufacturing facilities and logging trucks would raise the chances of accidents that would be detrimental to the health of the lake and river
the traffic study holds many unanswered questions and the $4 TAX (not TOLL) "give or take 10%" [???]
the long-term impact on surrounding cities and towns such as Wilsonville and Columbiana
the construction process on the river and the impact to the critters in the area who rely on healthy water for their habitat
our state is notorious for allowing industry and developers to negatively impact our natural resources in the name of "economic development"— then not hold the entities accountable when they violate their permits
Let's raise our voices to protect the places that matter like Lay Lake!