Alabama Rivers Alliance Board of Directors
Officers
Birmingham, AL
Black Warrior River Basin
Tony D grew up on Cotton Creek in Gulf Shores, Alabama where he developed his passion for Alabama waterways. He spent much of his childhood exploring the woods and splashing in the waters nearby. His dedication to people and nature led him to scouting where he achieved the highest honor of earning the rank of Eagle Scout. Through scouting, Tony gained an appreciation for protecting our natural resources and defending our rivers.
With more than 20 years of experience in marketing and advertising, he brings a wealth of knowledge to ARA. Tony has volunteered his time with organizations such as the Birmingham Advertising Federation, Birmingham Artwalk, Sidewalk Film Festival and more. Currently, Tony is president of the Alabama Cup Races which features canoe and kayak racing on the Locust Fork and Mulberry Fork.
In his spare time, Tony enjoys whitewater kayaking, mountain biking, camping, photography and outdoor events.
Cory Pettway, Vice-President
Birmingham, AL
Black Warrior River Basin
Meet Qunelius "Cory" Pettway, Community Liaison for Birmingham City Councilor Darrell O'Quinn (District 5). He is currently a member of the Alabama State and Jefferson County Democratic Executive Committees and is co-founder of The Willing Family, a community organization aimed at revitalizing urban neighborhoods in Birmingham. Cory has been awarded the Jefferson County Committee of Economic Development (JCCEO) Early Childcare Community Outreach Award twice for his work on the Kingston site. Cory is also a member of Cahaba River Society Junior Board, The Birmingham Barbers Coalition, Grassroots Coalition Birmingham, Our Revolution-Birmingham and is a Congressional Black Caucus Institute Political Leadership Alumni.
Cory is an uplifting and vibrant "life-centered" person who is dedicated to being the change he wants to see in the world. His experiences in life and career have allowed him opportunities to truly make an impact and that is what inspires him each day. He regularly volunteers with churches and non-profit organizations throughout the area by organizing events. He's taught and volunteered in the Birmingham City School System and he works closely with elected officials developing policy and empowering power to rise above adversity.
Cory believes in spreading a message of peace and love in efforts to encourage the unity of all life and looks forward to serving on the Alabama Rivers Alliance Board of Directors and working withthe communities throughout Alabama which depend on our 132,000 miles of rivers and streams.
Jack Key, Treasurer
Birmingham, AL 
Cahaba River Basin
Jack grew up in Decatur, AL fishing, swimming and water skiing in the Tennessee River. Jack graduated from The University of Alabama with a Bachelor's degree in Marketing and currently owns the commercial real estate brokerage and investment company J. Key Properties, LLC. Jack is active in several local environmental organizations and is passionate about protecting Alabama's natural resources. Jack enjoys hiking, fishing and cycling in his spare time.
Ben Ferrill
Huntsville, AL
Tennessee River Basin
Ben is a geologist and city planner with the City of Huntsville, an active paddler, and a local conservationist who is active with the Flint River Conservation Association and a board member with the Alabama Rivers Alliance.
Maggie Johnston
Nauvoo, AL
Black Warrior River Basin
Maggie Johnston grew up in north central Mississippi playing in the woods and streams. She attended the University of Southern Mississippi for her undergrad where she discovered paddling beautiful tranquil creeks such as Black Creek. She taught science at the Alabama School for the Deaf (ASD) in Talladega, AL where she lived on the banks of Talladega Creek in Waldo. She and her dog friends hiked the Pinhoti and played in the Creek in her backyard. She developed a love for whitewater on Talladega Creek and NC creeks, but has settled into more of a drift and fish mentality with her husband, Mark Johnston, in the last few years.
Maggie retired from ASD in 2004 to manage the educational programs at Camp McDowell. She was director of McDowell Environmental Center, helped to start the McDowell Farm School, and then started Alabama's first nature-based preschool, Magnolia Nature School at Camp McDowell. Maggie's latest adventure is as Executive Director of Wild Alabama. She is thrilled for this opportunity to protect and defend the waters that make Alabama special. Maggie and Mark have four children and four grandchildren, four dogs, and six chickens, wow!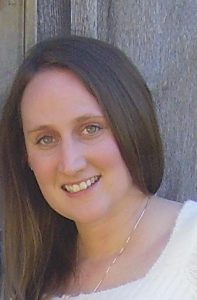 Julie Lay
Guntersville, AL
Tennessee River Basin
Julie Lay holds a B.S. Degree from Auburn University in Animal Science. Julie also completed an internship with USDA Forest Service Center for Aquatic Technology Transfer whose main focus was aquatic management issues. She has spent the majority of 16 years working in industrial agriculture food safety, quality assurance, and regulatory compliance. She resigned from her position in industrial agriculture in November of 2019. She is currently enjoying being a stay at home mom and turned her attention towards supporting and bringing awareness to sustainable agriculture methods. Mrs. Lay is a resident of Guntersville, Alabama where she resides with her husband and two sons. Click here to see her tell her story researching biosolids in the 2020 Southern Exposure film, Soiled.
Jonathan McNair
Birmingham, AL
Black Warrior River Basin
Jonathan is a Birmingham native who grew up in the Westend community. As a child, Jonathan spent many weekends and summers on the family farm in Fordyce, Arkansas where he gained a strong value of mankind's relationship with the land. He has extensive firsthand knowledge of Alabama's waterways. He is an avid paddler and boater.
"I believe that having a personal connection to nature important for all humans. But this connection is vital for those charged with shaping policies that will either protect or destroy it."
Jonathan has worked long time as an educator and media technologist. Jonathan key professional interest is at the intersection of education and technology. Some of his interest include drawing attention to issues dealing with racial and economic equity in environmental policy.
Charles Miller 
Charles is the Policy Manager with the Missouri Confluence Waterkeeper. Prior to joining their team, he was a nearly lifelong resident of the Alabama-Tallapoosa-Coosa River watershed. He recently graduated from The University of Alabama School of Law  and also has a B.A. in Political Science.  He spent the summer of 2018 in Washington DC working with ARA partner American Rivers. Growing up on Green Mountain in northern Alabama, he gained an appreciation for the importance of wildlands and open space, especially in urban and suburban areas. Charles enjoys traveling, hiking and photography.
Vickey Wheeler
Springville, AL
Coosa River Basin
Vickey is a founding member of Friends of Big Canoe Creek and has worked extensively with them on mission development, fundraising and communications since 1990. She is part of the team that initially envisioned and helped guide efforts to establish Forever Wild's Big Canoe Creek Nature Preserve in Springville.
She is President of the Board of Directors for The Friends of Big Canoe Creek and co-convenes The Springville Gathering, hosts of a yearly Environmental Dinner, bringing the Arts and Sciences together for conversation and collaboration.
A lifelong artist and educator, Vickey has exhibited, taught and implemented art based programs in schools and other institutions. She has a Bachelor of Fine Arts from the University of Alabama and both a Masters in Early Childhood Education and a post graduate Educational Specialist degree from UAB.
Vickey's mother's family owned the aquifer spring that is at the headwaters of Five-Mile Creek and her grandmother ran Harvey's Florist in the fieldstone house on the property.  It was always a priority for her family to protect the spring, which is now preserved within Reed Harvey Park.
A creative visionary, Vickey has kept volumes of personal illustrations and narratives for decades that manifest the relationships between natural and spiritual realms, and is continuing to explore the connectivity between Aesthetics and Environmental Integrity.
NOTE: ARA Board members are elected to three year terms and may be elected to three consecutive three year terms, then extended for one extra year (10 years total) before being termed out for at least a year.
---
Of Counsel:
Mr. William L. Andreen (Bill), esq.

Tuscaloosa, AL

Black Warrior River Basin
Bill is the Edgar L. Clarkson Professor of Law at the University of Alabama School of Law.  He previously served as Assistant Regional Counsel for Region IV of the US Environmental Protection Agency in Atlanta, Georgia and is a graduate of Columbia Law School and the College of Wooster. He is a Scholar Member of the Center for Progressive Reform in Washington, DC and a Member of the Commission on Environmental Law and World Conservation Union.
---
 Advisory Board:
Dr. Ramble Ankumah
Tuskeegee, AL
Chatahoochee River Basin
Ramble teaches environmental sciences at Tuskegee University. Dr. Ankumah is originally from Ghana, Africa.
Dr. Rob Angus
Birmingham, AL

Cahaba River Basin

Rob is a recently retired former professor of biology at the University of Alabama at Birmingham. In addition to serving on the board if the Alabama Rivers Alliance, Rob also serves on the Advisory Board of the Black Warrior Riverkeepers and on the Board of the Valley Lake Association. Rob, his colleagues, and his students have engaged in considerable research evaluating the effects of urban development on stream fish and invertebrate populations. Rob is a fisherman and musician who enjoys playing the banjo and hammered dulcimer.
Karan Bailey
Shorter, AL
Tallappoosa River Basin
Karan is a consulting field biologist who has spent a considerable amount of her energies tracking the conservation status of the federally endangered flattened musk turtle in the Black Warrior River Basin.
Bill Bennett
Birmingham, AL
Cahaba River Basin
Randy Haddock
Birmingham, AL
Cahaba River Basin
Randy is Field Director for the Cahaba River Society.
Reverand Mark Johnston
Nauvoo, AL
Black Warrior River Basin
Mark is the Executive Director of Camp McDowell, an Episcopal Church Camp and Conference Center near the Bankhead Forest and Alabama's Smith Lake.  Mark is a priest in the Episcopal Church and a graduate of University of the South.
Joseph B. Mays
Birmingham, AL
Cahaba River Basin
Michael Mullen
Troy, Alabama
Choctawhatchee River Basin
Michael is the Choctawhatchee Riverkeeper. He holds a BS in Chemistry and Biology from Athens College, an MS in Chemistry from the University of Arkansas, and an MS in Biology from the University of Alabama at Huntsville. He holds an AS Certificate in Environmental Science from the University of  Alabama, Huntsville, is certified in Watershed Management  from the University of British Columbia – IRES, and is a Certified Professional in Erosion and Sediment Control (CPESC) – Cert. # 2129. He also serves on the Board of Directors for Alabama Water Watch. During his spare time he enjoys playing golf, fishing, and canoeing.
John Scott
Montgomery, AL
Alabama River Basin
John is a retired attorney who has been active for many years in conservation work, including service on the boards of Southern Environmental Law Center, The Nature Conservancy of Alabama, and Forever Wild.
Beth Young
Birmingham, AL
Cahaba River Basin
Beth Maynor Young is an accomplished conservation photographer who has spent much of her life chronicling the natural beauty and remnant wild places of the contemporary South. In 1990, she founded Cahaba River Publishing, a conservation-motivated firm that supports her life's passion—nature and landscape photography. Today, Beth's photographs give us a moving vision of the natural world and speak quietly yet deeply of our need to preserve the South's unique environmental heritage.
Beth's conservation photography is part of many private and corporate art collections across the country. Her renown and popularity is a testament to the importance of environmental issues and the caliber of her photography.