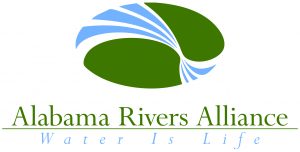 Dear River Defenders:
As the Alabama Rivers Alliance celebrated our 20th anniversary as an organization this year, I celebrated my 10th year as its Executive Director.  I admit – when I accepted this position, I was nervous about taking on such an important role in Alabama's river movement. But I wanted to succeed more than anything.  I used to pinch myself every day to make sure I wasn't dreaming. They really chose me for this amazing opportunity. We have been through some changes over the years, and the work of saving rivers seems to get harder and harder, but it also gets more urgent.
News stories about Americans not having access to clean drinking water or working sewer systems are becoming alarmingly frequent.  We learn more each year about the connections between pollution in our water and public health problems.  The work we — and our alliance partners — are doing is not just a matter of saving our rivers, it is a matter of saving lives.
Political changes can seem overwhelming and the road blocks can seem insurmountable at times, but the Alabama Rivers Alliance is here to help you navigate the truth from the fiction. We — and our dozens of Alliance partners — can be the watchdogs, the lobbyists, the lawyers, and the advocates that we all need to protect our water now and for future generations.
You have helped the Alabama Rivers Alliance become a leader in connecting Alabama's river advocates to protect clean water over the past 20 years, but the work is increasing.
Can we count on you to increase your support as we grow into an even stronger network to face the challenges of the future?
STANDING STRONG
At the beginning of this year, many of us who care about clean water and healthy rivers were deeply concerned about the impacts the new administration would have on our ability to protect and preserve our rivers and streams for future generations.  The campaign had made it clear that rolling back environmental protections was a high priority and, unfortunately, our fears were not unfounded.  Many of the environmental regulations that were passed in recent years have already been reversed and there are continuing attempts to roll back our most basic environmental laws.
But I'm not afraid anymore.
I'm not afraid because I have experienced the strongest organizing from the environmental community in my career.  Local and national organizations are connecting on strategies and communicating across states and regions to stand strong in the face of unprecedented threats to protecting clean water.  The Alabama Rivers Alliance has been a leader in making sure Alabamians are connected to this movement and that they are taking action to defend rivers!
What we have been doing to stand strong and keep our clean water protections in place:
Participating in national Clean Water For All campaign and connecting groups in Alabama to national opportunities to sign on to letters, participate in calls with the EPA, take actions on national bills, and amplifying social media messages across platforms
Participating on the steering committee of national River Network's Civic Engagement group to advise our national partners on the needs of state and local groups in becoming more engaged in civic action
Participating on the steering committee of national River Network's Southeastern Flows Network to develop more cohesive regional strategies for protecting river flows and aquatic habitat
Strategically developing one action a month for our members and partners to actively participate around to protect water and important environmental regulations
Hosting our largest annual Alabama Water Rally to educate concerned citizens and connect local groups around water issues
Hosting our largest ever Rivers of Alabama Day Lobby Day to help citizens meaningfully connect with elected officials
Co-hosting a lobbying training with Sierra Club and Conservation Alabama to help train our members to become more comfortable talking to their elected officials
Strengthening relationships with state agency personnel and elected officials to ensure that environmental voices have more than just a token seat at the decision-making table
These are the kinds of strategic efforts that make Alabama's river protection movement one of the strongest in the nation.  We see our role in the big picture and we will NOT let political setbacks get in the way of ensuring that our rivers and streams are healthy, flowing, and clean. 
I wholeheartedly thank you for supporting our work and for making our first 20 years as an organization such a success.  Please give as generously as you can this holiday season and, if you have clean water you can rely on, be thankful.  Clean water and healthy rivers are not a given and it takes all of us working together to make sure we protect them for the next 20 years and beyond!
LOOKING AHEAD
We are proud to announce that we have big plans for growing Alabama Rivers Alliance over th
e next 20 years.  In 2018, we are thrilled to take on the leadership of the Southern Exposure Film Fellowship program that was created by the Southern Environmental Law Center.  This prestigious program has brought graduate film students from all over the country to Alabama to develop compelling and inspiring documentary films about Alabama's environmental beauty and the threats facing our ecosystems and our public health.  This type of storytelling and engaging medium is an important tool for us — and our partners — in helping the public and our elected officials better connect with our environment and helping them better understand the critical need to protect it.
Taking on this substantial new program and ensuring the high quality level that SELC demanded requires hiring new staff and engaging new volunteers in our work.  Our board and staff are ready for this challenge and we believe that our organization is a great fit for continuing this important program. We can't wait to see what the fellows create in 2018!
SUSTAINING OUR MOMENTUM
In addition to this new program, we are growing our team to strengthen us and prepare us for the future.  This past year, we recruited an amazing group of young professionals to become our Junior
Board.  This dynamic group is helping grow our membership, recruit volunteers, and provide advice to our organization on engaging with the next generation of river defenders.  Also in 2018, we will be hiring a part-time Development Director to help create a more diverse and sustainable funding base for our important work.
This new and exciting growth will make us stronger to continue our tried and true river defending efforts, such as advocating for the state to develop an Alabama Water Plan, working with partners to address the public's right to know when sewage spills into our waterways, working with partners to keep fishermen informed of fish consumption advisories, keeping the power company accountable for disposing of toxic coal ash pollution, and supporting the more than 50 local groups working across Alabama to protect their local creeks and waterways.
As we continue our campaign to educate Alabamians about the importance of rivers and the need for a
statewide water plan, we see that our efforts are working.  A recent survey conducted by Public Opinion Strategies (POS) found that four-in-five voters support the state legislature taking action to establish a comprehensive statewide water plan. Alabama voters view rivers and streams as state treasures that are critical to the Alabama economy. They recognize that these waterways are a major source of drinking water, and express concern about overall water quality in Alabama. There is a consensus among Alabama voters that state and local government officials must have a plan to protect water in the state, especially during periods of drought and other times of crisis.
HOW YOU CAN HELP
Next year is an important state election year.  We must all actively ensure that those candidates running for office understand the importance of keeping our rivers and streams healthy to protect our drinking water and our way of life for our children and grandchildren.
As a small nonprofit, we cannot do this without your financial support and your dedicated commitment to clean water for all!  This year, please consider doubling your last gift!
Water is life,
Cindy Lowry
Executive Director