SPEAKERS AND PRESENTERS AT ALABAMA WATER RALLY
COMMUNICATE. COLLABORATE. ACT!
---
WATER WE GOING TO SAY: Messaging Workshop for Action on a Water Management Plan
---
Martin Hamburger, HG Creative
Martin Hamburger is that rare entity in politics, and life in general:  a proud New Jerseyan. Beyond that, he's a clear-eyed strategist, forceful creative voice, and disciplined campaigner with wide-ranging political and message development experience.
Martin has worked as a public interest group lobbyist, on political campaigns across the country, as a staffer for Democratic Party, and, since 1993, as a political media consultant. Martin founded Hamburger Company in 2007, and cultivated the firm's growth and evolution into Hamburger Gibson Creative in 2015. He brings to campaigns an eye for the subtle details, the ones that show voters candidates who are real, and bring messages to life.
His political ads have won numerous Pollies, Addies, and other awards. He's won awards for his short films, such as at the 2009 International Wildlife Film Festival, and the long form documentary, "Lurking in the Trees" has been broadcast on Public Broadcasting Stations nationwide. He also completed "Trees, Pests and People," making him the world record holder in the highly exclusive category of "Making Documentaries About Bugs."
Martin is sought-after as a trainer and educator, having developed campaign skills trainings, campaign simulations and curricula for diverse organizations and institutions such as The Nature Conservancy, The US Forest Service, Planned Parenthood, and American University, where he was an Adjunct Professor in the School of Public Affairs. He is an author of "Campaign Warriors: Political Consultants in Elections," published by Brookings Institution Press in 2000. Martin is a certified professional ski instructor and avid cyclist.

Sarah McCreary, HG Creative
What do Rob Reiner, Kobe Bryant and Smokey Bear have in common? Sarah has helped all of them be more effective, powerful communicators, in one way or another.  Sarah's career spans political campaigning, organizational positioning and branding, media relations, public service advertising, and television and digital media production.
Sarah cut her PR teeth at Edelman Public Relations in L.A., and then applied her speechwriting gifts and press wrangling skills in the publicity arm of Cedar-Sinai Medical Center's development department, working with Hollywood A-listers and sports stars to raise funds for medical research. In New York, she executed communications and marketing strategies for the American National Standards Institute on everything from homeland security and wireless networking to corporate social responsibility and toy safety. In Washington DC, Sarah built coalitions in the conservation community through her work with the National Association of State Foresters, using icons like Smokey Bear and The Lorax to raise the profile of issues facing America's forests.
At Hamburger Gibson Creative, Sarah's expertise in media training, message development, branding, and innovative digital strategies helps arm message-makers with essential tools to build audiences in meaningful and multifaceted ways. She's trained candidates, coalitions, executives and elected officials to stay "on message" and relevant in an increasingly competitive communications battlefield played out in a four-screens world. As Vice President of Production, Sarah manages the workflow of HGCreative's media work. Her involvement in each step of the process –budget development, script concepts, location scouting, booking the crew, post-production and shipping spots – ensures a constancy that avoids pitfalls, adheres to deadlines and maintains creative vision throughout.
---
Morning Plenary: Communicate. Collaborate. ACT!
---
Barry Fagan, Volkert, Inc.
Barry leads a green infrastructure service area for Volkert. Volkert is a nearly 100-year-old infrastructure engineering services company with expertise in transportation, energy, water, and the environment. Barry joined Volkert in 2016 after retiring from the Alabama Department of Transportation. Barry sees change as inevitable and continuous. He feels that we have the ability and an obligation to influence positive change regardless of where we sit in our organizations. He has also observed that influence is simply not possible without effective communication.
Gil Rogers, Southern Environmental Law Center on behalf of the Georgia Water Coalition
Gil Rogers is the director of the Georgia and Alabama offices of the Southern Environmental Law Center.  Gil grew up in Birmingham and attended Princeton University, where he majored in biology and earned a certificate in environmental studies.  He then went to Harvard Law School and joined SELC after graduating in 2002.  Gil's work at SELC centers around water quality and water management in Alabama and Georgia.  He was awarded Water Conservationist of the Year in 2005 by the Georgia Wildlife Federation and River Hero in 2015 by the Alabama Rivers Alliance.
Jen Hensley, Sierra Club
Jen Hensley started her career with Sierra Club 19 years ago by working as an organizer in Western IL. The goal of the campaign was to inject environmental issues relating to water quality and Confined Feeding Operations (CAFO's) into the IL-17 th  Congressional race. In 2001, Jen moved into a position with the Sierra Club Illinois Chapter where she continued running water programs, but began to add more policy and political work to her portfolio.  As Program Manager for the Illinois Chapter, she built campaigns and engaged in lobbying activities around issues like clean energy, endangered species management and toxics. In 2014, Jen was named the Director of State Lobbying and Advocacy where she works with Sierra Club staff and volunteers across the country to promote and protect a wide swath of environmental issues in state capitols.

Stefanie Francisco, Conservation Alabama
Stefanie was raised in Fairhope. She received her bachelor's degree in political science from the College of Charleston in Charleston, South Carolina, and her master's degree in rural sociology from Auburn University, where her research focused on the Deepwater Horizon oil spill. Stefanie began her career in the national news media, working for PBS, CNN, and Politico. Before joining Conservation Alabama in 2014, she served as partnership coordinator for Mobile Baykeeper. Stefanie is now based in Montgomery, where she lives with her husband and their daughter, Evangeline.
---
Keynote Speaker: Abbie Gascho Landis
IMMERSION: the Science & Mystery of Freshwater Mussels
---
Abbie Gascho Landis
Abbie Gascho Landis is a writer, veterinarian, and naturalist. She has won Duke University's Center for Documentary Studies 2015 Essay Award, an Arthur DeLong Writing Award, and was a finalist for the Constance Rooke Creative Nonfiction Award. Landis holds a bachelor's degree in English and biology from Goshen College and a doctorate in veterinary medicine from The Ohio State University. Her writing has been published in Pinchpenny Press, Full Grown People, and Paste Magazine.
---
WHAT'S IN YOUR WATER?
---
Sarah Stokes, Southern Environmental Law Center
Sarah Stokes is a staff attorney at the Southern Environmental Law Center in Birmingham, AL. She received her undergraduate degree from Dartmouth College, a masters from the London School of Economics, and a juris doctorate from the University of Alabama School of Law. She served in the Peace Corps in Paraguay as an environmental educator, and has been recognized by the Cahaba River Society as the Cahaba Conservationist of the Year. She is on the University of Alabama School of Law's Public Interest Advisory Board, the Alabama Pinhoti Trail Association Board, and served as the Chair of the Environmental Section of the Alabama State Bar. She spends her free time adventuring with her two rambunctious boys and intrepid husband.
Nelson Brooke, Black Warrior Riverkeeper
Nelson has been Black Warrior Riverkeeper's staff Riverkeeper since January of 2004.  As Riverkeeper, Nelson patrols and photographs the Black Warrior River and its tributaries from the land, water, and air, looks for pollution problems, responds to citizen complaints, researches and analyzes polluters' permits, collects pollution samples for laboratory analysis, educates the public about the beauty of the river and threats to it, works to empower stakeholders throughout the watershed, advocates compliance with environmental laws, works on finding solutions to pollution problems, and is a spokesman for the Black Warrior River watershed.  Nelson was named "2010 Alabama River Hero" by the Alabama Rivers Alliance.
Katherine Baer, River Network
Katherine is the Director of Science and Policy at River Network. As an environmental advocate for over 15 years, Katherine has worked for River Network, American Rivers, Triangle Land Conservancy, Upper Chattahoochee Riverkeeper, the Center for Progressive Reform, and the School for Field Studies. In that work she has led efforts to improve policies for clean and reliable water at the local, state and national levels, including testifying before Congressional Committees and serving on state and national working groups on topics including drought management, climate change adaptation and reducing sewer overflows. While at American Rivers, Katherine led a team of policy and technical experts working to advance green infrastructure through successful advocacy for increased funding and stronger permits and policies, working with a diverse array of partners. In her current position as Director of Science and Policy for River Network, Katherine leads efforts to build the capacity of watershed groups nationwide in the areas of clean and ample water. She currently serves on the Water Environment Federation's Stormwater Institute Advisory Committee.
---
DefendRivers 101: SEE SOMETHING? SAY SOMETHING!
---
Michael Mullen, Choctawhatchee Riverkeeper
Michael Mullen is founder and the Executive Director/Waterkeeper for Choctawhatchee Riverkeeper. Inc. His background includes M.S. degrees in chemistry and biology, coursework in environmental science and economics and a certificate from the University of British Columbia in watershed management. Over the past few years he has become a Climate Reality presenter and has taken numerous online courses on climate change and sustainability to increase his knowledge and abilities to work for solutions.  In addition to his work as Choctawhatchee Riverkeeper Mike is currently President of the Alabama Water Watch Association (Alabama's citizen volunteer monitoring organization), President of the Environmental Defense Alliance and the SE Alabama Director for the Alabama Scenic River Trail.  He has also served as Chair of the ADEM Reform Coalition (a coalition working on reforming Alabama's state environmental agency). Mike helped to start up the Wiregrass Canoe and Kayak Club to replace the defunct Tri-State Paddlers group in SE Alabama.  Mike is retired from Troy University where he taught courses in limnology, pollution science, erosion and sediment control and stormwater management and supervised the research of students doing water quality research in the Choctawhatchee River basin.   At his home in Troy, Alabama Mike and his wife Alice over time have been taking steps to reduce their ecological footprint. These started with the free and lower cost measures to reduce energy use. As new appliances, air conditioning, and a roof replacement were needed, high-efficiency, energy-saving choices were made. Mike plans to install a 3-KV solar PV array suitable for supplying most of the electrical needs for his home and office sometime in the future. Mullen wants to do these things not only because they are the right thing to do but also because he wants to lead by example.
---
ENERGY POLICY BARRIERS: WE ALL LIVE IN A YELLOW SUBPAR REGIME
---
Daniel Tait, Energy Alabama
Daniel Tait is the CEO of Energy Alabama, a 501(c)(3) non-profit organization accelerating Alabama's transition to sustainable energy through education, advocacy, and technical assistance. Mr. Tait also serves as a Research and Communications Manager for the Energy and Policy Institute.
Mr. Tait was named the 2015 International Young Energy Professional of the Year by the Association of Energy Engineers and he serves on the Tennessee Valley Authority's Energy Efficiency Information Exchange Council. He volunteers for Energy Huntsville and acts as Treasurer of the Association of Energy Engineers, Huntsville Chapter.
He graduated from the University of Alabama in Huntsville with a degree in International Trade and Foreign Language.
Kirsten Bryant, Gasp
Kirsten is the Outreach Director for Gasp. She has been part of the organization since its inception. After a year of volunteering to help establish Gasp, Kirsten accepted the role of executive director in 2009. She began advocating for clean air and clean water issues as a student at the University of Alabama through her work for the Alabama Environmental Council's (AEC) Tuscaloosa Chapter. Kirsten also worked for the AEC's state office as program coordinator and then as executive director.
In 1995, Kirsten received the Bob and Mary Burks award for her service to the organization. She earned her undergraduate degree in merchandising with a minor in marketing from the University of Alabama. She has lived in the greater Birmingham area for 20 years working in the private sector in management and marketing related positions and as a nonprofit executive. It is Kirsten's hope that future generations will inherit a healthy Alabama where clean air and water are valued and protected. Kirsten was named "River Hero" by the Alabama Rivers Alliance in 2017.
---
THE HIGH, THE LOW & HEALTHY: WHY FLOWS MATTER
---
April Ingle, River Network
April splits her time as a Science and Policy Associate for River Network and Owner of April Ingle Consulting. At River Network she supports projects to empower the community of 2,000+ river and watershed organizations in the US with resources and support for their work to protect and restore rivers. As owner of April Ingle Consulting she works to boost the impact of organizations that are working for a better world. She provides organizations with tools, training and strategies to boost their fundraising, strategic and program planning, board development and engagement, collaborations, communications, staffing, management, and events. Previously, April served as Executive Director of Georgia River Network; as Public Relations Specialist, then Executive Director of the Indiana Association of Soil and Water Conservation Districts; as Coordinator of the St. Joseph River Watershed Initiative; and as an environmental educator.
---
NEVER FEAR: LOBBYING 101 IS HERE!
---
 Stefanie Francisco, Conservation Alabama
Stefanie was raised in Fairhope. She received her bachelor's degree in political science from the College of Charleston in Charleston, South Carolina, and her master's degree in rural sociology from Auburn University, where her research focused on the Deepwater Horizon oil spill. Stefanie began her career in the national news media, working for PBS, CNN, and Politico. Before joining Conservation Alabama in 2014, she served as partnership coordinator for Mobile Baykeeper. Stefanie is now based in Montgomery, where she lives with her husband and their daughter, Evangeline.
---
TEACH THE CHILDREN WELL: EDUCATIONAL RIVER ACTIVITIES FOR KIDS
---
Stephen Guesman, Friends of the Locust Fork River
Stephen Guesman is the current president of the Friends of the Locust Fork River, and has been involved in a variety of  environmental causes for decades – including the original Earth Day. His paid job of the last quarter century has been as green builder and educator.  He lives  in a solar powered home in the hill country of north Alabama,  close to the banks of the Locust Fork  – where where most nights he gets to sleep with Martha Hunter.
 
Jamie Bullock, Mobile Baykeeper
Although originally from North Carolina, Jamie has spent the last 14 years living in Los Angeles where she produced documentaries, television shows, multimedia content, and commercials for various production companies and advertising clients. In 2007 Jamie helped launch a production company and was the Executive Producer of their first feature film, which was picked up for distribution, released theatrically, and is now available On Demand. Most recently she served as Production Supervisor for EcoSet Consulting, LLC. EcoSet works with advertising clients such as Target, Samsung, Campbell's and Old Navy to help reduce the environmental impact of their commercial sets and events. They have diverted over 500 of tons of materials from landfills by composting, recycling and donating all remaining wardrobe, set, catering and art department items to artists, teachers and non-profits throughout the community. In 2015 Jamie helped co-create the blog Project:Women, whose mission is to provide original content and curate stories for, by, and about women throughout the world.
As the Education and Outreach Coordinator, Jamie interfaces with the public and works to expand existing and cultivate new relationships with local groups, organizations and individuals. She creates and produces media campaigns to bridge the gap between the community and the organization and helps develop and lead programs to educate the community on the Mobile Bay Watershed, and our unparalleled natural resources to ensure everyone has clean water, clean air and lives in a healthy community.
Maggie Johnston, Camp McDowell
Maggie grew up in Mississippi where she caught Box turtles, played in forests and creeks, and thought the rest of the world did, too! She got a degree from the University of Southern Mississippi and another from the University of Montevallo. She taught science at the Alabama School for the Deaf in Talladega, Alabama for many years. In 2004, she retired to marry the love of her life, Mark Johnston, and take in her dream job: Director of McDowell Environmental Center. After 14 years at Camp McDowell, she has helped to expand the McDowell Education Programs. There is now McDowell Farm School, the only residential farm school in the southeast, and Magnolia Nature Preschool, the first Nature-based preschool in Alabama. Maggie is now director of the McDowell Educational Programs. She and Mark have four children, three grandchildren, five rescue dogs, and 6 chickens! Life is good!
Maggie founded Krik? Krak! organization to work in Haiti about seven years ago. Krik? Krak! provides school lunches for a mountain school in Crochu area and has built many latrines and cisterns in that area, and was a part of the Alabama Episcopal Diocese ministry there for six years. She is happy to serve on the Creative Exchange Initiatives board and help to create even more opportunities and partnerships in Haiti.
---
COLLABORATING WITH ACADEMIA
---
Betsy Dobbins, Samford University
Dr. Betsy Dobbins, a professor at Samford University, is committed to community education that incorporates environmental health and justice. She and her students explore the impacts of human ctivity on aquatic systems through macroinvertebrate analysis, water chemistry, and microbial source tracking. This work has led to numerous teaching awards. Dobbins directs the NSF-funded Samford STEM Program and co-directs the Clark Scholars Program in Bioinformatics. She currently serves as a member of the Executive Board of the Cahaba River Society, secretary of the Executive Board of the Friends of Shades Creek, and as a member of the Black Warrior Riverkeeper Advisory Council.
Catherine Flowers, Alabama Center for Rural Enterprise
Catherine is the Director of Environmental Justice and Civic Engagement of the Center for Earth Ethics at Union Theological Seminary. She is the founder of the Alabama Center for Rural Enterprise Community Development Corporation (ACRE) which seeks to address the root causes of poverty by seeking sustainable solutions. She also serves as the Rural Development Manager for the Equal Justice Initiative serving the citizens of Lowndes County, one of the 10 poorest counties in Alabama's Black Belt. Ms. Flowers has been able to bring significant resources to address its many environmental and social injustices. Specifically, her work at ACRE addresses the lack of sewage disposal infrastructure in Alabama's rural Black Belt, the legacy of racism and neglect stretching back to the time of slavery. Ms. Flowers is also an internationally recognized advocate for the human right to water and sanitation and works to make the UN Sustainable Development Agenda accountable to front-line communities.
---
CREATING & MAINTAINING A RESILIENT ORGANIZATION
---
Casi Callaway, Mobile Baykeeper
Casi (kc) Callaway is from Mobile, Alabama, graduated high school from the last all girls' class of Julius T. Wright and received a degree in Philosophy and Ecology from Emory University in Atlanta, Georgia. She began working in the environmental field as the Southeastern Regional College Campus Coordinator for Earth Day 1990. Casi then began working for Clean Water Action in Washington, D.C. She worked on local, state, and federal campaigns in many areas, including public education, research of political issues, lobbying at every level of government, and fundraising. Before leaving D.C., Casi attained the positions of the D.C. Field Canvas Director and the D.C. Office's Florida Program Director.
As Executive Director & Baykeeper of Mobile Baykeeper (formerly Mobile Bay Watch, Inc.), Casi is responsible for coordinating public education; community organizing; research and fundraising. She holds four gubernatorial appointments and serves on the boards of several local, state and regional environmental organizations. Casi is also active in the Junior League of Mobile and with Government Street Presbyterian Church. She and her husband, Jarrett, have one amazing son, Coleman
---
UP IN SMOKE: COAL IN ALABAMA AND BEYOND
---
Stephen Stetson, Sierra Club
Stephen is a Senior Campaign Representative with Sierra Club's largest campaign, the Beyond Coal Campaign. His areas of responsibility include Georgia Power, Mississippi Power, and Alabama Power. As David Roberts, energy writer for Vox, wrote in October 2017, "Beyond Coal has quietly produced the largest tangible outcomes of any environmental campaign in my lifetime." Stephen has been with Sierra Club since the summer of 2017, but has a decade of public policy and advocacy experience in Alabama. He's a member of the Alabama Bar Association and for several years has been a registered lobbyist at the Alabama Legislature. His law degree is from the University of Alabama, and he has an undergraduate degree in media studies (with an emphasis on print journalism) from the University of Texas in Austin. Born and raised in Troy, Alabama, he currently lives in Montgomery. He roots for the Chicago Cubs, the Crimson Tide, and loves live music.
---
DISCOURSING WATER
presented by the Alabama Rivers Alliance Junior Board
---
Rebecca Jackson, Voices for Alabama's Children
Rebecca is a Montgomery native who has a B.A. in political science from the University of Alabama with a minor in public relations. In 2013 she received a Master in Public Administration degree with a concentration in nonprofit management and leadership from Auburn University at Montgomery.
She worked for over a decade at Alabama Arise, a non-profit coalition that works to improve the lives of low-income Alabamians. During her time at Arise, she did a little bit of everything and is experienced in non-profit advocacy, outreach, and policy. She most recently worked at VOICES for Alabama's Children's staff as Policy and Outreach Manager, working with advocates to ensure the well-being of Alabama's children through research, public awareness, and advocacy.
In her spare time, Rebecca enjoys spending time outside hiking, swimming, gardening, and relaxing in hammocks.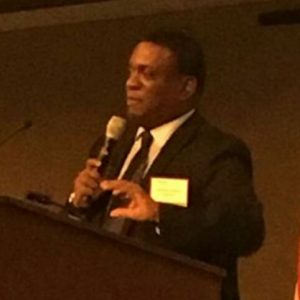 Yohance Owens, Village Creek Society
Yohance Owens is the Executive Director for Village Creek Human and Environmental Justice Society, Inc. Mr. Owens job is to develop the entire length of the forty four mile Village Creek watershed in Birmingham, Alabama. Mr. Owens duties includes partnership with different communities within Village Creek , work with local schools with natural science programs, economic development and advocate the natural preservation of Village Creek vibrant resources.
Mr. Owens graduated from Holy Family Cristo Rey Catholic High School 1991 in Birmingham, Alabama. He received his Bachelor of Arts degree in Business Management from Talladega College in 1995. His career spans from retail sales, consumer finance, community leadership, politics, professional development, mentoring programs, retirement planning, non-profit and community service.
Mr. Owens has over twenty thirty years of community service. He is a member of the Adamsville-Forestdale Lions Club (President 2010-2012 and Zone Chairman 2008-2010) , Alabaster-Pelham Alumni of Kappa Alpha Psi Fraternity, Inc( President 2013- 2015), Board Member of B.E.A.T. (Bethel Ensley Action Taskforce) of Birmingham, Alabama, American Diabetes Association, American Cancer Society, a member of BEPA (Birmingham Environmental Partnership Association), City of Adamsville Abatement Board, Northwest Jefferson County Chamber of Commerce, American Heart Foundation, and served on the City of Adamsville City Council from 2008-2012.
Mr. Owens attends New Pilgrim Baptist Church in Birmingham, Alabama.  Yohance's  motto is: "Community Service is one of the greatest aspects of our society."
Michael Bullington, Young Alabama
Michael Bullington is a husband, young professional, and active political commentator in Birmingham. He is currently serving as the Executive Director of Young Alabama, where he also co-hosts the Young Alabama podcast, and the Communications Director of Be the Change Venture Alabama, on top of his day job. Michael is a graduate of Auburn University, where he was also active in the Student Government Association and Student Alumni Association. He has been quoted or interviewed in several national and international media outlets, and has op-eds regularly published in local papers. He is an Auburn and White Sox fan, so make of that what you will.